Modern Organic Products - Save 50% this March
In keeping with our vision to move away from unnecessary additives and find a more natural alternative to both hair and beauty, Yummy Mummy are happy to offer
Modern Organic Products (MOP). MOP's product range has been created to provide modern, simple and natural solutions for the cleansing, treatment and finishing of all hair types. The inclusion of organic and food-derived ingredients provides nutrition for healthy hair and scalp as well as protection from environmental elements.
The MOP range was launched in 1998 by renowned stylist David Raccuglia in response to a growing need for organic choices that do not require a sacrifice in product performance. MOP's vision of modern organics reflects a movement to smarter lifestyle choices - choices that respect our earth and its future; choices that promote health and well-being.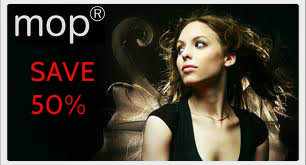 MOP also offers a range of childrens shampoo, conditioner and styling products.
All MOP products are available for purchase at Yummy Mummy Hair and Beauty.
SAVE 50% on all MOP products this January!